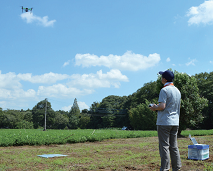 Since the establishment of the "Aerospace Basic Act" in 2008, the major purpose of the national policy over the space development and utilization has changed from the stage of research and development to that of wide-range, practical utilization. Thus, it is absolutely needed for the environmental remote sensing community to establish the methodology of utilization of remote sensing for finding, understanding, and solving various problems on both scientific and social bases. In view of such background, this program (Program 3) aims at assigning important problems that must be solved on national and global levels, integrating the results of satellite and ground-based observations, and realizing the advanced application methodology of satellite remote-sensing data through the synergetic activities of scientists representing various fields of environmental monitoring.
Main faculty members
Research targets during 2010-2015 (6 years) and representative achievements
Researches on environmental changes in China.
Evaluation of ecological services of hydrologic cycle in the Quaternary uplands (collaboration with Chiba Prefecture).
Extraction of spatial information in relation to the biodiversity (collaboration with Chiba Prefecture).
Formation of database useful for the mitigation of pollen influence on human health.
Research on web-based dissemination of spatial information.
Construction of environment-friendly food production support system for adaptation strategy to climate change.
We plan to produce novel application methodology of satellite remote sensing data in combination with the data obtained from ground observations. The targets will include various problems such as desertification, water problem, food security, evaluation of ecological services, urban and rural planning, etc.
Monitoring and causal analyses of environmental changes in Asia.
Restorations of sound hydrologic cycle and biodiversity in Chiba prefecture.
Study on spatial information system that nurtures the disaster- and environmental literacy.
Construction and provision of spatial information helpful to our daily life.
Monitoring environmental changes in Asia by remote sensing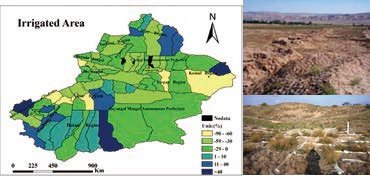 Monitoring of environmental changes and disasters in Asia by satellite remote sensing were enhanced to establish holistic understandings of human and physical dimensions of regional environmental changes in Asia.
Realization of transdisciplinarity in environmental issues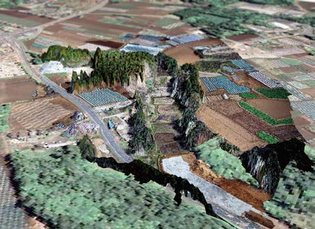 Realization of transdisciplinary in environmental issues was attempted by employing remote sensing and GIS effectively. Cooperation with stakeholders was formed in Inbanuma Watershed, and Fukushima district to restore healthy environments.
Practical implementation of UAS remote sensin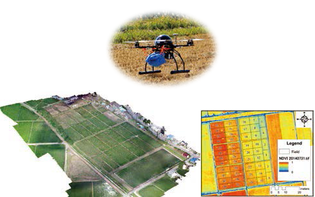 On demand remote sensing was developed by using UAS(Unmanned Aircraft Systems). Creation of ortho-aerial photos, measurements of air temperature, humidity, dose rate, surface temperature, and application for farming activities were established.
Forecasting of cedar pollen scatter utilizing satellite data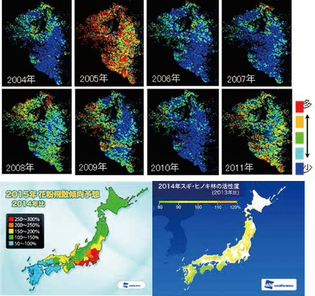 New prediction method of pollen scatter potential was developed by using meteorological data, the amount of cedar male flower and MODIS/fPAR. MODIS/fPAR image can be converted into an activity index of the cedar forest, that is the higher this index increases, the more amount of male flower cedars would be expected. The Weather News Inc. in Japan made use of this method, starting the pollen scatter forecast program on TV. The information provided through this TV program is useful for many people suffering from pollen allergy and also companies making products related with this disease.
Agriculture insurance as adaptation to climate change toward the sustainable societ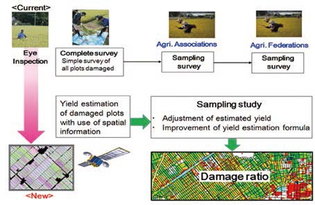 New method of damage assessment through estimation of rice yield was formed by spatial information. This method can substantially contribute to reduce the time, costs, and man power which are necessary for implementation of the agricultural insurance. From perspective of the food security, the agricultural insurance is considered to play a key role to realize sustainable agriculture, consequently strengthening the social infrastructure. So this achievement leads to more precise damage assessment, which finally could help the whole world to be converted into sustainable society.